News
Jacocks: It's not fair to paint all police officers with a broad brush of brutality
By A.M. "JAKE" JACOCKS JR.
The Virginian-Pilot
©April 11, 2015
THE INEXPLICABLE decision by a South Carolina police officer – fortunately now an ex-police officer – to shoot a fleeing suspect in the back is permanently etched in the minds of all of us who have seen the video.
We couldn't forget what we saw if we tried. We should not try.
Mission BBQ Raises Funds
Mission BBQ raised these funds by selling their blue American Heroes cups from Feb 2nd – April 5, 2015. Community support and participation was outstanding and resulted in a donation to the VBPF of $3,059!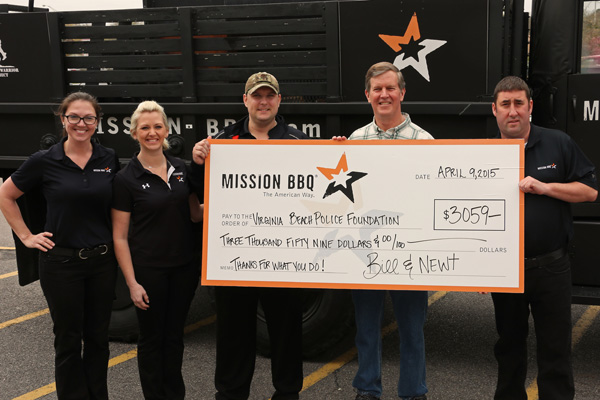 (L-R) Amy Pease, Meredith Lippert, Stephen Lippert , Jake Jacocks and Phil Boyer.
2014 VBPF Scholarships
(L-R) Chief Jim Cervera, Sgt Scott Wichtendahl, Lt. Scott Humphrey, Officer Bradley Colas, Foundation President Jake Jacocks.
The Virginia Beach Police Foundation has awarded three $1,500 scholarships to members of the Virginia Beach Police Department who are pursuing undergraduate and graduate degrees in fields related to law enforcement.
These scholarships were the first awarded under the Foundation's recently adopted scholarship program. Additional scholarships are expected to be announced in late summer for winter semester classes. Details of the scholarship program are on the Foundation's website, www.vbpf.org
Bowling for Badges
Please support the Foundation by participating in our Bowling for Badges event, May 18th from 1pm – 5pm at Pinboy's in Virginia Beach! There will be a silent auction and 50/50 raffle. Register a four-person team for $20 per person by downloading the form below. Registration includes a 16" pizza and pitcher of soda per team. Event is limited to 32 total teams.

Click here to download the registration form.
Support from CSA VAB
The new Colonial Shooting Academy location in Virginia Beach will be selling blue targets from May 17th – June 17th to raise money for the Virginia Beach Law Enforcement Memorial. Go to 5070 Virginia Beach Boulevard at Witchduck Road to get yours for only $2.00 each!

Click here to see the fundraising flyer.

For more information on Colonial Shooting Academy, go to http://www.colonialshooting.com/vab/.